These peach bars are delicious with almond flavor.  Crunchy crumbles and soft peaches make a nice combination. These oatmeal peach bars are delicious and so easy to make! You'll need the same top for the crust and the topping.  They are crunchy, soft and slightly chewy bars. Almonds and peaches make a perfect combination.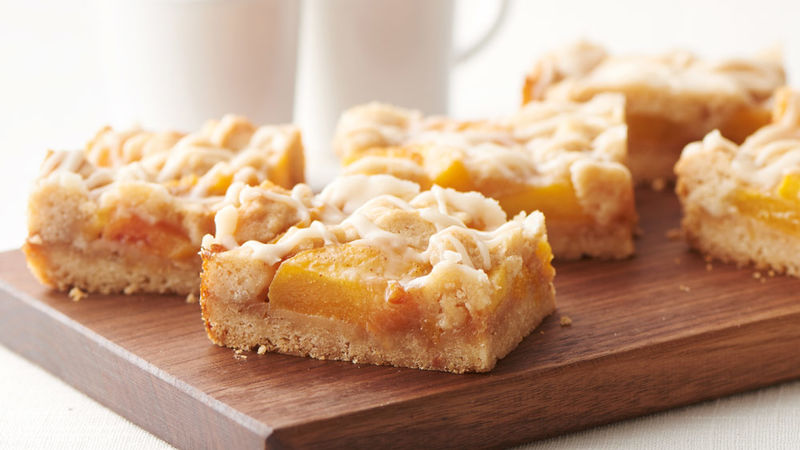 Ingredients
Crust and Crumbles
140 grams (1 cup) all-purpose flour

130 grams (1 cup and ⅓ cup) rolled oats

155 grams (¾ cup) granulated sugar

1 teaspoon cinnamon

¼ teaspoon salt (optional)

150 g (⅔ cup) unsalted butter, melted and cooled
Peach Filling
450 grams (2 cups) peaches, peeled and cut into small pieces

*

30 grams (2 tablespoons) granulated sugar

2 teaspoons cornstarch

1 teaspoon fresh lemon juice

1 teaspoon almond extract
Instructions
Preheat the oven to 350°F(177°C). Grease an 8 inch (20cm) square oven-proof dish and line the bottom and sides with parchment paper, about 2 inches(5 cm) of overhang on each side.

Chop the peaches into almost  ½-1 inch (1,25-2,5 cm) pieces. First, mix the peaches with lemon juice and then with the almond extract. Next, toss with cornstarch and sugar. Set aside.

Mix the flour, rolled oats, sugar, cinnamon, salt( if using) well in a medium bowl.  Then add the melted butter and stir with a spoon or spatula.

Place ⅔ of the mixture into an oven-proof dish that is lined with parchment paper.  Use your hands or a spoon to spread the mixture evenly.

Next, cover the crust with the peach mixture but leave the excess liquid in the bowl.  You may want to use this liquid later if there is too much left. ( You can place that liquid into a small pan, and when the mixture thickens you can remove it from the heat and drizzle the sauce on top of the baked bars. )

Sprinkle the remaining dough over the peaches. If you like you can make some big crumble pieces by squeezing crumble mixture in your hand before sprinkling.  Use your fingertips to press to the crumbles so they can stick to peaches.

Bake for 33-35 minutes until the top becomes golden brown and the crumbles are crunchy. Let it cool at room temperature for almost 1 hour.   Then keep in the fridge for extra 1,5 hours until it is completely cool so you can have nicely cut bars.