Portico Décor – The Magazine for the art of living and furnishing the ordinary to a dream location.
As the expertise on extraordinary and savvy, Portico Decors delivers decoration inspiration, renovations ideas, indispensable go-to source leading designers worldwide to make your home lively, vibrant while being unique.
Portico Decor is the novel collection of hand-picked, rare and exquisite interior designs from all around the world. Its just not any other design to cover up spaces. But its unique, picked by the standards and tastes that govern the trends.
Portico Décor brings furnishing and decoration ideas to your home – how to decorate, how to assess the location and what to place which doesn't look cluttered and just seems to occupy all of the place.
You'll discover stylish finds; chic shops; art, culture, and travel guides; and recipes and advice for great entertaining—simply , a little of everything you may need to live well!
Header
The ultimate designer tool
From wireframing to prototyping and everything in between, the ultimate designer tool has everything you need to create stunning websites and digital experiences.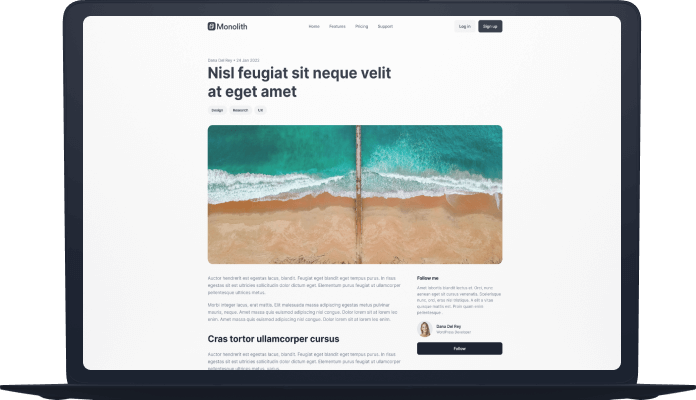 Content
Create user-friendly websites with a few clicks
Monolith allows you to create user-friendly websites with just a few clicks, making it easy to build a site that is both beautiful and functional.

A variety of templates and design options

Easy to add and arrange elements on your site

Optimized for speed and performance

Will look great on any device, from desktop to mobile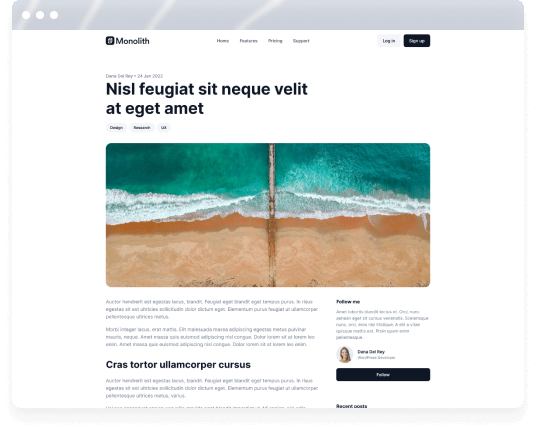 CTA
Join over 2,000 company
Join over 2,000 agencies who have chosen Monolith to create stunning websites that capture their brand's essence and style.









Features
Getting started is super easy
Whether you're a beginner or an experienced designer, our web design tools offer everything you need to bring your vision to life. Plus, our customer support team is always on hand to provide assistance when you need it.

Monolith offer a wide range of features, from drag-and-drop interfaces to customizable templates.
With a variety of effects, you can elevate your website design with dynamic animations and transitions.
We provide world-class customer support for our web designer tools, ensuring our customers satisfaction.
Our tool offers integrated email marketing features, allowing you to create and send newsletters.
Our tool come with advanced analytics, providing you with insights into your website's performance.
Monolith comes with live chat features, enabling you to communicate with your visitors in real-time.