These potatoes are made decadent with creamy spinach and given a satisfying crunch with chopped walnuts.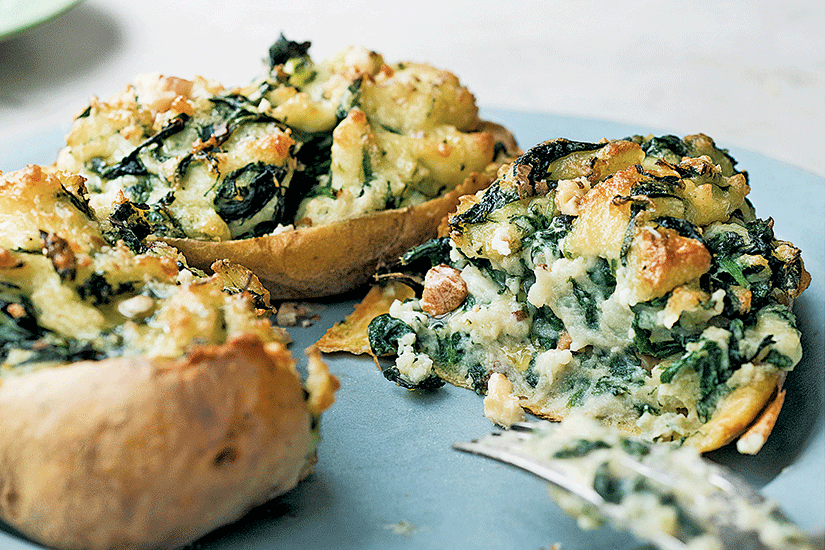 INGREDIENTS
2 large russet potatoes (about 1 1/2lbs)

1 1/2tbsp unsalted butter, divided

3 tbsp 35% whipping cream

2 1/4oz Gorgonzola

Salt and freshly ground black pepper

7oz baby spinach leaves

2tbsp walnut halves, lightly toasted and broken up into 1⁄2-inch pieces (optional)
DIRECTIONS
Preheat the oven to 450°F. Poke the potatoes a few times with a fork and then place them on a parchment paper-lined baking sheet. Bake until the flesh is soft all the way through, 1 hour or just over. Remove from the oven and, when cool, slice in half lengthwise. Scoop the flesh out into a medium bowl, setting the skins aside on the sheet for later. Roughly mash the flesh with 1 tablespoon of the butter, the cream, Gorgonzola, 1⁄2 teaspoon salt and a generous grind of pepper; set aside.

Divide the remaining 1⁄2 tablespoon but- ter among the potato skin cavities. Sprinkle with a generous pinch of salt and bake for 8 minutes, until the skin begins to crisp up. Remove from the oven and set aside.

Place a medium saucepan filled halfway with salted water to boil over high heat. Add the spinach and stir until wilted, 10 to 15 seconds. Drain, squeezing as much water out of the spinach as possible. Stir into the potato mixture until combined, then scrape the mixture into the skins, piling it high. Bake until the top of the mash is crisp and browned, about 15 minutes. Remove from the oven, sprinkle with the walnuts and serve.
Serves 4